Bathrooms are the centre of wellness in the home so it is essential to create a space which is comfortable and relaxing. From refreshing morning showers to a long, relaxing soak in the tub after a long day, it is imperative to create a space which feels balanced for all our needs.
We have carefully chosen a range of top bathroom designs to give you inspiration for your dream shower room, bathroom or en suite.
The Modern Bathroom
Monochrome modernity is currently extremely popular with homeowners in 2021. The main feature being the stunning Brilliant White tiles as a centre piece wall decorated with edgy wooden shelving space. The sleek grey gloss furniture offers plenty of storage. The white tiles are presented in a brick bond pattern with black grout.
This bathroom is both on trend and affordable and would work perfectly for an en suite. A thoughtful display of plants in the bathroom compliments the colours perfectly and adds an earthy feel.
The Chic Bathroom
This fantastic bathroom design is definitely a home show-stopper. The block contrast between the white and black tiles give the room a feeling of boldness while also contrasting with the checkerboard floor tiles. The coloured wallpaper pairs perfectly with the painting against the white tiles, offering a pop of unique colour creating a stylish but elegant look. The white decor flatters the room while the wooden accents add a hint of sophistication. This bathroom design really is the perfect way to show off a fashionable and tasteful personality and home.
The Black Bathroom
This stunning black-themed bathroom is a perfect combination of classic and contemporary. The stunning black tiles are carefully accompanied with rose gold accents and wood cabinets. The black tiles with grey grout add a feeling of style and mystery to the home, creating a timeless look.
By using a gloss black tile, it will add a feeling of space and dimension to the room while offering a base for brighter colours to shine. Black is a bold and dramatic statement, and when paired with the right colours it can create a show-stopping look. This look can be re-created with one of our favourite tile paints: Rust-Oleum Gloss Black.
The Grey Bathroom
Grey bathrooms are one of the most popular trends of 2021. This bathroom is a perfect example of a full tiled shower room while adding a hint of black and white. These light grey tiles are a fantastic idea to lighten up a shower room which has limited light from windows.
Our favourite in-trend light grey tile paint is The One Paint in Light Grey which can create the same eye-catching look. The large black floor tiles are a stunning addition, creating a spectacular look in the room. The white grout used with the grey and black tiles also lightens up the space. This is a perfect example of a grey walk in shower room or en suite.
Pretty in Pink
This bathroom featuring Pink Fusion subway tiles is bursting with energy! The almost leaf-like motif on the floors in various pink shades also adds a chic vibe to the room. The brass industrial style features adds just enough contract to this bathroom. This stunning bathroom is a perfect example for someone of a chic, unique style who isn't afraid to have a little bit of fun! The hint of light purple paint is the cherry on top in this room as a little can really go a long way in such a loud bathroom.
This bathroom is a stunning example on how to combine different shapes and shades to create a show-stopping look in your home.
The Colourful Bathroom
Colour in the bathroom is back on the rise in 2021. These shades of yellow, green and blue is a bold introduction for colour in the home. Historically, bathrooms have been guilty of being bland and boring but colour has now made a huge comeback. The addition of grey on the floor tiles is a fantastic example of contemporary with chic. The brass fixtures are a brilliant way to add contrast to a bathroom with such colours. The black cabinet and small features are a perfect touch to this room, adding a small amount of boldness.
To re-create this look, we highly recommend using Rust Oleum Universal Paint in the shades Canary Yellow, Emerald Green and Cobalt Blue.
The Red Bathroom
Having a colour scheme like red in your bathroom can be a unique way of reflecting your boldest interior style and taste. This colour can brighten up your design space while adding a modern but classic feel. This bathroom design has used red subway tiles around the shower area with white grout to break up the colour. The hint of white paint around the mirror is a brilliant way to add light into a shower room which may not have a window. The black storage area adds a bold atmosphere to the room and highlight the white paint.
 Ronseal One Coat Tile Paint in the shade Red Rose is the perfect colour to re-create this look.
Tiled Feature Wall
Adding a feature wall to your bathroom is the perfect way to add colour without being overwhelmed. Orange is being used far more extensively in modern bathrooms after once being considered a risky choice. These Sunset Orange subway style tiles pairs perfectly with the white wall tiles and grey floor tiles. White tiles make the room look more spacious while highlighting the orange feature wall. The stunning silver features add class and sophistication to the room while as always – black is bold. The matching rugs are a simple but effective feature to the room.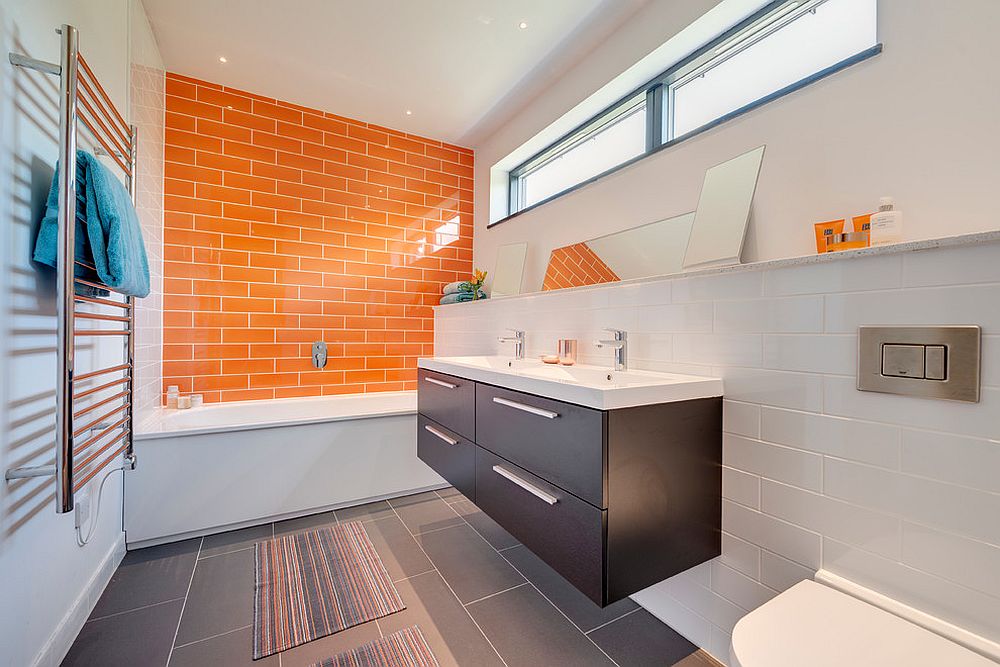 Green is the New Black
Green is 2021's new 'in' colour as it gives the room a feeling of balance and harmony. The best quality about green is it's vast array of shades including mint, lime, emerald and many others. These Emerald Green tiles work stunningly with the accompanying white paint above. The white paint highlights the boldness of the green on the tiles but also helps draw attention to the grey accents such as the mirror. 
The black and white checkerboard style floor tiles are a feature in this design as it adds a classic but contemporary feeling to the room. Adding a hint of green to your bathroom is a fantastic way to add a classic, show-stopping look to your home.
If you are struggling on where to begin when painting tiles, check out our blog How To Paint Over Tiles for more information.