Kitchen's are certainly the heart of the home. It is the room of social interactions, eating and drinking with friends or just having a nice snack after a long day.  
It is essential to have a kitchen design you will love for years so we have found the top kitchen designs of 2021 to match every personality. From gorgeous countertops, unique tile backsplashes and accompanying decor, we have it all!
Kitchen Stripes
Using tiled stripes are a fantastic way of adding a pop of colour to your kitchen. Subway tiles offer so much creativity in the kitchen and these olive green stripes fit perfectly with the theme. The white floating shelves in between the stripes are a fantastic as they blend in, allowing the green to be highlighted. The dark blue storage cupboards add a hint of boldness to this theme. White tiles are a brilliant choice to brighten up a room and make the kitchen feel more spacious.
Olive green is a fantastic choice if you are deciding between light green and dark green, a brilliant middle choice.
Full Coverage Kitchen
A full coverage kitchen is certainly a very bold statement. In this design, there is definitely a unique line between retro and futuristic. If full black isn't quite your style, white tiles will certainly open up your space because they create a feeling of more room and an airy feel. This bold black tile design certainly isn't for the faint hearted, but when used with the right decor, it can create the most eye-catching look.
If you are looking to re-create this tile look, we highly recommend using Rust-Oleum Universal Paint in Gloss Black for the best results.
Chevron Patterned Tiles
Mixing up your tile pattern can make your kitchen look interesting and unique. Firstly, this stunning blue tile colour matches perfectly with the storage space surrounded. The wooden accents and floor contrast in a beautiful way with the blue, breaking up all of the colours in the room. The decor around the kitchen is very simplistic which highlights the blue gloss tiles. A hint of black is used by the lamp shade, handles and sink which gives a stylish feel to the room. The rug was a brilliant choice because it adds a pop of colour, adding sophistication and elegance to the space.
Our recommended blue to match this style is Cobalt Blue from the brand Rust-Oleum.
The Pink Kitchen
Pink is definitely on the rise for 2021 kitchen designs. It's a colour which can go with a huge range of colour palettes. This kitchen design is a fabulous match of pink tiles with white and grey marble, featuring a hint of green from the plants. Secondly, the white grout in between the tiles really helps the light pink tiles stand out. The decor in this design is simple but effective. The white and pink gives off a feeling of calmness and sophistication while keeping it's elegance. Finally, the grey marble creates a fantastic contrast and really helps break up all of the white and pink in this design.
The Colourful Kitchen
Adding colour is the best way to 'spice' things up in the kitchen. One of the best ways to elevate your kitchen space is with the right colour theme. This sunset theme is a fantastic way to add light into your home while keeping a chic but sophisticated look. Red is a very bold colour so the accompanying white tiles help to bring attention back to the other details in the room. Yellow and orange are very bright colours and help to create a warm atmosphere. The accompanying shelving adds to the summer vibe by show casing the colour matching features in the kitchen.
To achieve this fabulous, eye-catching look, we recommend using Ronseal One Coat Tile Paint in the shades Red Rose and Gloss White for the red and white tiles. For the orange and yellow tiles, we recommend Sunset Orange and Canary Yellow by Rust-Oleum.
Halfway Tiles
Halfway tiles are a fantastic idea if top to bottom tiling isn't your style. In this design, the white tiles add brightness to the room but by using dark grout, it isn't too overwhelming. The Emerald Green colour theme in this kitchen gives a relaxing vibe and a sense of freshness. The decoration in this room beautifully accompanies the earth theme perfectly. The wooden accents add an edgy but sophisticated vibe which is a fantastic choice by the designer. 
The brilliant white, soft marble countertops fit in just right with the style. Lastly, the dark drawers are able to stand out due to the white tiles above, creating a classic feeling.
Dark Grout Tiling
This stunning kitchen design is a fantastic mix of modern farmhouse and classic. Using dark grout even on a simple subway tile pattern is a brilliant way to add contrast to your room and make your tiles pop out more. This tile pattern works perfectly with the marble countertops and the black appliances are a beautiful feature to this design. The storage space below is a stunning complimentary colour to the tiles. This kitchen design is very simple but effective, adding a sense of style to your home. Black grout is timeless and you can be sure it will never go out of style. Whether paired with white or black tiles, it can make any space look richer.
This design is perfect if you're looking to elevate the look of your plain white tiles while also adding sophistication to your kitchen.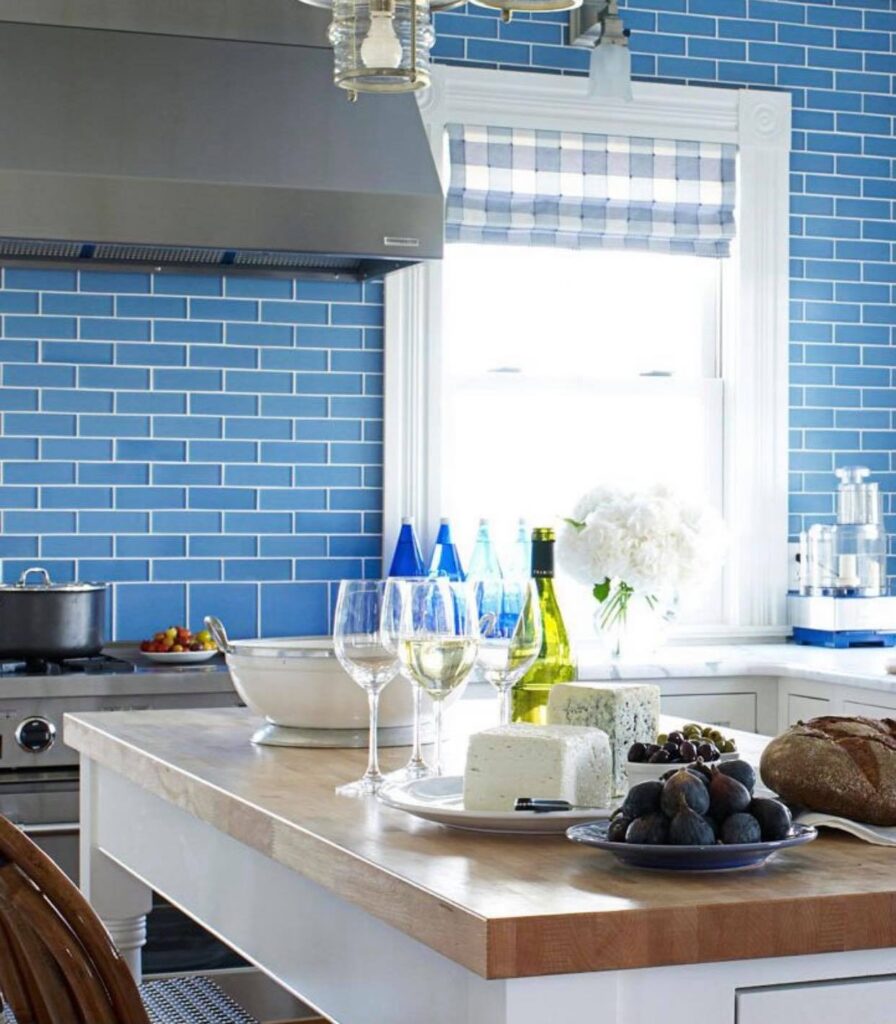 The Blue Kitchen
This design is a perfect example of a kitchen with a relaxing and calming atmosphere. Blue tiles are becoming more and more popular in 2021, even overtaking grey as the most popular tile colour. These blue subway tiles are a perfect colour to lighten up any room, with the accompanying white grout brightening the space even more. The wooden table feature contrasts with the blue theme perfectly, creating a modern farmhouse feel. The decor in the room is simple but is one to always remember. The blue appliances in the room compliment the blue tile centrepiece beautifully. This kitchen is a beautiful design to match with a stylish and contemporary home. 
We recommend the shade Cobalt Blue by Rust-Oleum for the best results.
The Red Kitchen
Using red tiles is a fantastic way to add depth to your kitchen. The colour red makes a memorable first impression and gets people talking. Red tile can be used as a great accent to 'warm' up a space or create a dramatic impression for larger spaces. As this design has a complimentary colour of black, red is a brilliant way to lighten up the room but still staying bold. Kitchen's can also benefit from red tiles as they are thought to increase appetite. The accompanying marble countertops offers a contrast between the boldness of red and black by adding a bit of white to lighten up the space. The shade you use can create a huge difference. We highly recommend the shade Cardinal Red by Rust-Oleum as a perfect match to this design shade.